Classic Industries' Parts and Accessories for Mustang catalogs have what you need and more!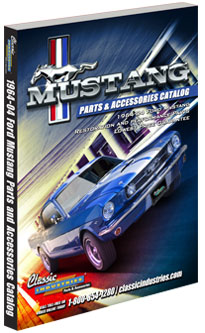 Our brand new Mustang 1964-1973 catalog is available in a full color printed version delivered straight to your door via US Mail, or you may download our digital pdf catalog for convenient desktop catalog browsing.

We're hard at work on the 1974-2004 Mustang catalog! Sign up today to receive the catalog hot off the press this summer!

Coming soon - Mustang 2005 and Up! Enroll for updates on our third Mustang catalog!

*Shipping charges will apply for delivery outside the 48 contiguous U.S. states.